Det är Umbrella mot Sparrow i trailern för säsong tre. Netflix superhjälteserie The Umbrella Academy är åter den 22 juni.
The Handler är död, men problemen för syskonen i den dysfunktionella familjen Hargreeves är inte över. Superhjältesyskonen har i säsong tre råkat hamna i en helt ny tidslinje där deras far, sir Reginald Hargreeves inte dött, utan grundat Sparrow Academy i stället för Umbrella Academy.
Så här lyder synopsis för säsong tre: Efter att ha satt stopp för domedagen 1963 återvänder The Umbrella Academy till nutiden, övertygade om att de förhindrat apokalypsen och fixat den gudsförgätna tidslinjen en gång för alla. Men efter ett kort firande inser de att saker och ting inte precis (okej, inte alls) är hur de lämnade dem. Entré Sparrow Academy: Smarta, stiliga och lika varma som ett hav av isberg kolliderar Sparrow direkt med Umbrella i en våldsam uppgörelse som visar sig bli det minsta problemet. De navigerar egna utmaningar, förluster och överraskningar – och hanterar ett oidentifierat destruktivt ting som går bärsärk i universumet – något som de kanske har orsakat – nu är allt de behöver göra att övertyga pappas nya och troligen bättre familj att hjälpa dem att rätta till vad deras ankomst orsakat. Kommer de att hitta tillbaka till sina förapokalyptiska liv? Eller kommer den här nya världen visa sig vara mer än ett gupp i tidslinjen?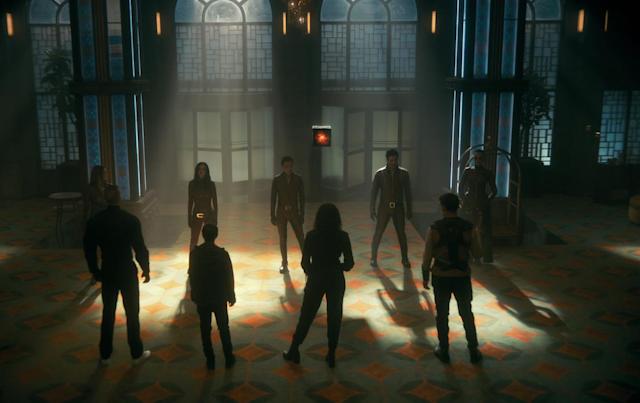 Hela den fasta ensemblen återvänder i säsong tre, vilket inkluderar Elliot Page (Vanya/Victor), Tom Hopper (Luther), David Castañeda (Diego), Emmy Raver-Lampman (Allison), Robert Sheehan (Klaus), Aidan Gallagher (Number Five), Justin H Min (Ben), Ritu Arya (Lila Pitts) och Colm Feore (Reginald).
De får sällskap av Sparrow Academy med en machiavellisk version av Ben i spetsen. Utöver Justin H Min spelas de av Justin Cornwell (Training Day), Britne Oldford (The Flash), Jake Epstein (Degrassi: The Next Generation), Genesis Rodriguez (Time After Time), Cazzie David (Eighty-Sixed miniseries) och nykomlingen Cube.